Description
Comfortable Petit Lulu face mask with nanofiber filter containing active silver, set of 4 + 2 pcs
It is a set of 4 pieces of unique original face masks from jersey (95% cotton, 5% elasthane) and 2 integrated filters. The material is elastic and precisely cut to the ears and therefore no elastic bands are needed. Patterns cannot be selected and are packed randomly.
The mask is very comfortable, soft ear loops eliminate pressure to the ears and thanks to the elastic material it adheres tightly to the face. Nose wire keeps the mask in a place and prevents glasses from fogging up.
The three-layer protective filter
– nonwoven fabric / nanofiber membrane with active silver / nonwoven fabric
The filter is made of top material from a leading Czech manufacturer. It is certified as harmless to health and tested by the Technical University of Liberec for the capturing microorganisms ( filter efficiency at least 97% *) Unlike other nanofibre filters, it is reusable (up to 5 days) moreover, thanks to its active silver content, it has proven effective inactivation (killing) of microorganisms
Filter doesn't need to be inserted into the pocket, but it is sufficient to put it in a well-sealed mask (eg Petit Lulu).
Currently, it is the only nano filter on the Czech market made by Petit Lulu in the shape of a "beak" (the filter tightly embraces the nose and mouth). This unique shape ensures a higher degree of protection compared to loosely inserted filters.
The single-layer face mask with Petit Lulu filter is highly functional and ideal for visiting places with a greater concentration of people, such as shops, medical centers, etc.
Important: only respirators have 100% efficiency in highly contaminated environments!
How to choose the correct size?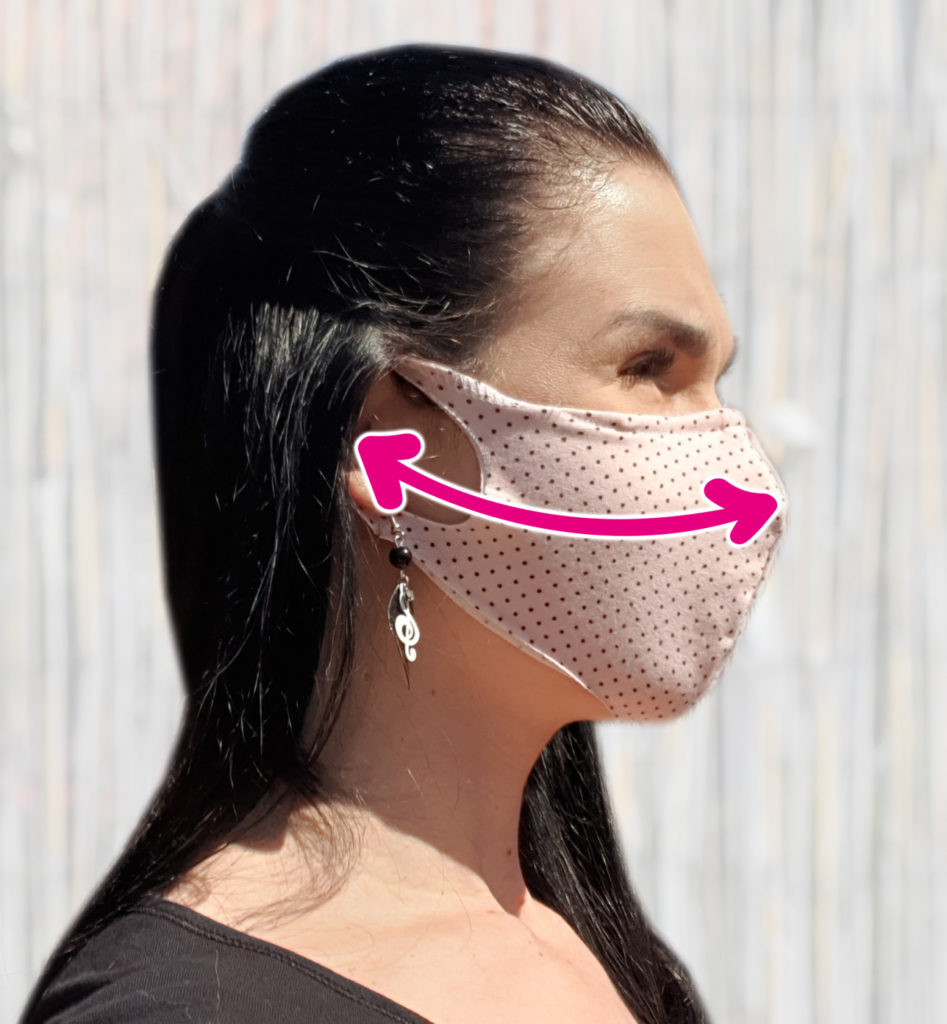 Measure the distance from the ear hole to the top of your nose:

Size XXS – approx. 12 – 13 cm– for children from 3 to 7 years
Size XS – approx. 13 – 14,4 cm – for children above 7 years
Size S – approx. 14,5 – 14,99 cm – teenagers, adults
Size M – approx. 15 – 15,99 cm – women, men with smaller heads
Size L – approx. 16 – 17 cm – men
Mask care:
The mask should not be worn for longer than 3 hours. It is necessary to sterilize it in a boiling water or by ironing every day.