Description
Description
Its use is simple: just put a little mixture on a cotton disk or washable cloth. It is not necessary to rinse because its consistency leaves a protective greasy film that isolates from moisture. In addition, the Love me Doux liniment is a liniment whose pH is not chemically corrected unlike most liniments on the market. So it will contrast the acidity of the baby's urine with its slightly basic pH.
Marigold is widely used in baby hygiene and care products for its soothing and anti-inflammatory properties.
Other recommended uses: Some moms use it as a make-up remover, to remove the remains of depiling wax or adhesive patch, such as nourishing cream, etc. It can also be used against the milky crust in newborns or to wash the face of older children.
Compatible with washable diapers
Ingredients: organic marigold macerate (sunflower oil with calendula flower maceration), Calcium hydroxyde water, beeswax
Capacity: 100 ml PE bottle.
Made in France, as close as possible to raw materials. Dermatologically tested and recipe validated by toxicologists.
Reviews (0)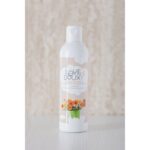 Calendula liniment 100 ml (PE bottle)
Your review
* Review is required
Email
* Email is required
Add photos or video to your review