Description
Description
The SIO basic insert is an absorbent base. Simply attach the insert to the diaper with a snap and you have an all-in-one nappy! If the diaper is not soiled, you can change only the insert and use the same diaper again.
– Can be used individually for daytime diapering or with a booster for night time or heavy peeing
– Has wings to seal around the baby's legs to protect the diaper from soiling
– Is very absorbent
– Can be used from birth and will be sufficient until about 6 months.
– Fits over the newborn nappy by folding the insert
– A snap is used to attach a short and a long insert, which makes the changing process easier and faster
This new version of the base has a completely new cut, narrower at the back, and thanks to the material used (organic Czech bamboo sponge), its maximum absorbency is maintained. Thanks to its reduced volume, it makes children's "little bottoms" smaller and allows for better freedom of movement.
ATTENTION: the basic SIO does not contain waterproof layers. It must be chosen according to the weight of your baby.
Material: 60% viscose (bamboo), 40% cotton (organic) (4 layers)
Reviews (0)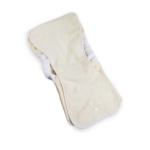 Insert SIO basic (3pcs) – Petit Lulu
Your review
* Review is required
Email
* Email is required
Add photos or video to your review