Description
Description
soft and snuggly… just what your little one needs to settle in to that long slumber (or perhaps a very long journey)
the body of this nappy is made entirely from hemp/cotton fleece (55% hemp/45% cotton) for incredible absorbency!
now with a pull out soaker making the nappy quick drying!
to top it all off, the entire inside (the part that sits right next to baby) is covered in 100% polyester fleece. Liquid soaks through the polyester into the hemp/cotton fleece on the outside while the polyester (naturally hydrophobic) stays almost dry to the touch
with gentle elastication at the legs and back to help with fit and containment
the soaker pulls out of the front for drying (and can be pulled out for washing depending on preference) so the nappy dries much faster
when you put the soaker in, it can be extended the full length of the inside of the nappy or folded at the front if desired for boys.
please note that the polyester fleece goes on the inside of the nappy. Although if you have chosen a colour or print this means it can't be seen when worn, nappies are usually worn under a wrap then clothes so this is not a big issue. You see the colour/print when the nappy is drying and at changing time!
for extra heavy wetters, try a hemp booster in between the nappy and the wrap!
Sizing information :
 S… 3-7kg (6-15lb)
L… 7-18kg (15-40lb)
XL…>16kg (>35lb) 
always use nappy cover
material: 55%hemp/45% cotton, 100% polyester
Reviews (0)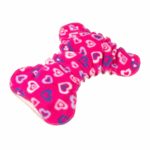 Night nappy (Bum Hugger)Snap
Your review
* Review is required
Email
* Email is required
Add photos or video to your review