Squiz Reusable Food Pouch Londres/New York
CHF14.50
Squiz is an all-in-one, easy-to-use pouch: filled by wide zipped bases, stored in the refrigerator or freezer, transported without risk of leaks, washed like a bottle, and reusable an average of 50 times. Meals or snacks for little or big kids can be enjoyed anytime, anywhere
1 in stock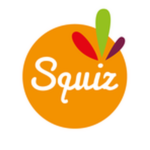 Description
Description
SQUIZ: A REVOLUTION!
Practical for parents and fun for kids, snacks in disposable pouches are now found in every school bag. Single-use pouches have several disadvantages, however: high price for one use, increase in packaging waste, and a size that is often too small (90-120 ml) to satisfy older children. Already popular in America, and finally available throughout Europe thanks to Squiz, reusable pouches provide an alternative that is ecological, economical, and just as convenient.
Squiz is an all-in-one, easy-to-use pouch: filled by wide zipped bases, stored in the refrigerator or freezer, transported without risk of leaks, washed like a bottle, and reusable an average of 50 times. Meals or snacks for little or big kids can be enjoyed anytime, anywhere.
Travels with you: you can eat anywhere, anytime
– Contribute to waste reduction: less discarded household packaging
– Save money: fill it yourself and reuse it up to 50 times
– Say goodbye to stains: kids can feed themselves with less mess
– Take care of your health: no additives or added sugar
BABIES & TODDLERS
Perfect for small hands thanks to its curved shape, Squiz makes outings child's play with easy, no-mess eating.
CHILDREN
Its large 130ml size makes it ideal for on-the-go snacks – no more crushed biscuits and sweets at the bottom of the school bag!
ADULTS
Easy to slip into a sports bag, or to have at the office or when traveling, Squiz means healthy snacks for grown-ups too!
Reviews (0)
Only logged in customers who have purchased this product may leave a review.