Description
Description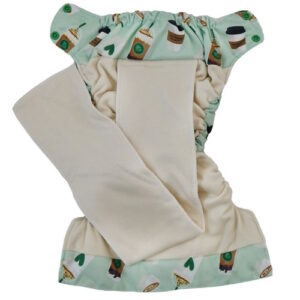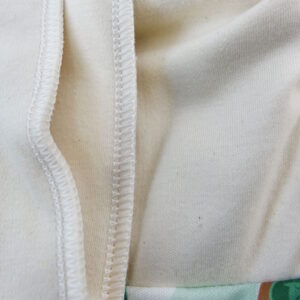 The Smart Bottoms 3.1 is a great all-in-one (AIO) that combines smart design with simplicity. Smart Bottoms makes the introduction to cloth diapers easy and fun, using only the best materials. This diaper is ideal for busy parents or when on-call as it installs like a disposable diaper.
The outer layer is made of waterproof PUL and the absorbent interior is made of 100% organic cotton. Its absorbent insert has the shape of a long tongue, which is sewn to the waterproof part and simply folded over and placed on it. Unlike other AIOs, there is no pocket to insert the insert, so the dry diaper can be removed from the line and placed directly on the baby's bottom, without any hassle. A foolproof layer!
The four rows of snaps on the front allow for a better fit as your baby grows from 5 to 16 kg.
Smart Bottoms are known for having a snug fit and being very absorbent. However, in an effort to be as natural as possible, manufacturers have avoided the use of chemicals to rid the cotton fibers of their natural oils. As the organic cotton in this diaper is very pure and contains many natural oils, it will take more washes to prepare this diaper for use than with conventional cotton. This means that it can take up to 6-8 washes before your diaper is very absorbent. We recommend that you test your diaper before use by pouring a small amount of lukewarm water over the dry diaper. It should be absorbed instantly when ready to use.
If you need to increase the absorbency of the diaper, we recommend Avo&Cado bamboo inserts or other boosters. Simply lay them over or under the tongue insert.
Care:
– Wash up to 60 degrees
– Can be tumble dried at low temperature but beware high heat can damage the PUL (polyurethane)! Avoid drying the diaper on the radiator or exposing it for long periods of time to the blazing sun.
– The manufacturer recommends washing six times before first use.
Material:
Outer: 100% polyester (PU laminate)
Interior: 100% cotton (organic)
| | |
| --- | --- |
| Fits from: | 5 to 16 kg |
| Type of nappy: | All-in-One |
| Size (Nappy): | One Size |
| Fastening: | Snaps |
| Organic: | Yes |
| Material: | Cotton, Polyester |
| Washable up to: | 60°C |
| Can be tumble-dried: | Yes (on low heat) |
Reviews (0)
Only logged in customers who have purchased this product may leave a review.