Description
Description
Littlelamb pocket sizes are pocket diapers, very soft, with a very good fit and as much absorbency.
The fabric in contact with the skin is of a very soft fleece (100% polyester), which drains the wet to leave the skin dry.
The waterproof exterior is in PUL
The absorbent part, on the other hand, is a double layer insert in bamboo flannel (bamboo viscose), very absorbent and thin!
The Little Lamb pocket is an excellent solution for those looking for a cheap diaper but with guarantees on fabrics and production methods.
Oeko Tex 100 certified fabrics (certification that guarantees the absence of dangerous substances in tissues).
Reviews (2)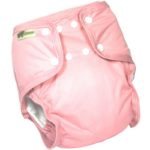 Pocket Little Lamb Size 1
Your review
* Review is required
Email
* Email is required
Add photos or video to your review